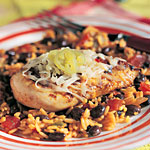 Photo: Oxmoor House
Nutritional Information
| | |
| --- | --- |
| Calories per serving: | 186 |
| Calories from fat: | 29% |
| Fat per serving: | 6g |
| Saturated fat per serving: | 3.4g |
| Monounsaturated fat per serving: | 0.3g |
| Polyunsaturated fat per serving: | 0.3g |
| Protein per serving: | 29.7g |
| Carbohydrates per serving: | 1.8g |
| Fiber per serving: | 0.0g |
| Cholesterol per serving: | 81mg |
| Iron per serving: | 0.8mg |
| Sodium per serving: | 294mg |
| Calcium per serving: | 114mg |
Good to Know
Make sure to have milk within arm's reach when serving this hot and spicy chicken. Serve over beans and rice for additional protein.
Jalapeño Chicken
Perp Time:

1 minute

Cook Time:

14 minutes

Total Time:

3 minutes

Yield:

4 servings (serving size: 1 chicken breast half)
Ingredients
1 tablespoon

40%-less-sodium taco seasoning

4

(4-ounce) skinless, boneless chicken breast halves

Cooking spray

1/2 cup

(2 ounces) shredded Monterey Jack cheese with jalapeño peppers

2 tablespoons

sliced jalapeño peppers (optional)
Preparation
Sprinkle taco seasoning over both sides of chicken.
Place a large nonstick skillet over medium heat until hot. Coat chicken with cooking spray.
Add chicken to pan, and cook 7 minutes on each side or until chicken is done.
Remove chicken from heat; sprinkle with cheese. Cover and let stand 3 to 4 minutes or until cheese melts. Garnish with jalapeño slices, if desired.
Taken from http://www.health.com/health/recipe/0,,10000001733145,00.html